Complete Story

11/10/2017
Farm and Dairy joins ONMA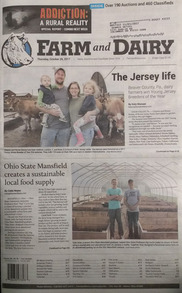 Farm and Dairy, a weekly paper focusing on the agriculture industry and local news, has joined the Ohio News Media Association. Based in Salem, Ohio, the family-owned paper is locally delivered and also mailed to subscribers across Ohio, Pennsylvania and West Virginia.
The publication was founded in 1914 and has been owned by the Darling family since 1936, with Scot M. Darling being the current publisher. Each weekly edition of the paper contains around 96 pages and consists of three sections including an auction guide and rural marketplace. Farm and Dairy also maintains a dynamic website.
"On behalf of the Board of Trustees, I'm excited to welcome Farm and Dairy as a member," said Dennis Hetzel, ONMA President and Executive Director. "Scot and his team produce an impressive newspaper and a great website that touches the lives of their audience.""
To learn more about Farm and Dairy, go to www.farmanddairy.com.