Complete Story

08/03/2018
Osman C. Hooper Weekly Newspaper Competition and Ohio Collegiate Newspaper & Website Competition are open for entry submissions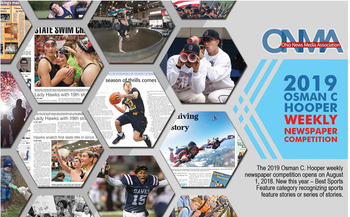 Registration is now open for the 2019 Osman C. Hooper Weekly Newspaper competition and the 2019 Ohio Collegiate Newspaper and Website competition.
To register, go to www.newspapercontest.com/ohio . The Association Code: ONMACONTEST. Entry instructions and the Hooper and Collegiate brochures with requirements are on the homepage of the contest website and also on the ONMA website www.ohionews.org under Programs/Contests and Awards. The Hooper contest has a new category this year – Best Sports Feature, recognizing sports feature stories or series of stories. The Collegiate competition's Best Multi-Media Package category now includes podcasts.
Please note which categories newspapers need to be entered in to be eligible for the Hooper Newspaper of the Year Award for weekly papers and the Frank E. Deaner Award for General Excellence in Collegiate Journalism for collegiate papers.
The deadline to submit entries for the both contests is Monday, October 8, 2018. Winners will be announced at the 2019 ONMA annual convention on February 7-8, 2019 at the new Renaissance Columbus Polaris-Westerville hotel. If you have any questions, please contact Sue Bazzoli at sbazzoli@ohionews.org.