Complete Story

03/29/2019
As we communicate the news to our readers, don't forget to communicate with our legislators and elected officials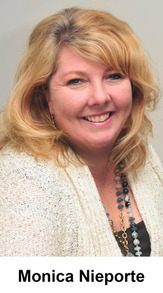 By Monica Nieporte, Executive Director
For the past 10 weeks I have been meeting with various state officials and introducing myself as your new representative.
I have been impressed by how responsive the senators, state office holders and representatives have been to our invitation to meet. As of today, I have met with 13 state representatives, seven senators and four statewide officeholders.
For the most part, our industry is still viewed at the state level with respect – not as the "enemy of the people," in case you were wondering.
Many of those I met with had a genuine concern for their local newspaper and the tough financial times we are in.
The closure of so many department stores – and loss of those advertising dollars – is further putting a squeeze on us because those dollars cannot easily be made up on Main Street. That and the shift in reading habits and where people get their news, or what substitutes for it, has created a powerful storm.
They admire us for weathering it and they don't agree with or like some of the noise aimed at the national media – nor frankly the fact it has become so analysis and opinion-heavy.
They also have positive things to say about the Statehouse press corps, though they wish there were more of you to report on more topics.
The other thing they would like is more conversation – particularly with the editorial decision makers.
They feel like there is a bit of a disconnect at times between the stories in the paper written by the paper's Statehouse reporter and the opinion pieces on the editorial page and they'd like to better understand why.
They also made a point of saying that sometimes their emails and calls to editors don't get returned to discuss an editorial or column even as, from their perspective, they feel they make an effort to get back to our reporters.
I point this out merely to pass along the feedback I've gotten. I don't know whether there is validity to it and I'm making no judgment there.
Having just come from the operations side, I understand how pinched for time everyone is and how many hats all of you are wearing. But I would ask that you stress to your team that some of the bullets we've dodged and some of the victories we've achieved are because we have always had open communication with the elected officials – whether we always agree with them or not is a different matter.
We need to occasionally hear them out, let them argue their case or vent in disagreement so they at least feel heard. Otherwise, if we suddenly find we need some allies in our corner, they may not be as receptive as they have been in the past.
I would also request that all of the publishers and editors reading this make a point of meeting with your state senator and state representative at least once during the year – and not during a campaign or the heat of a moment.
Some of the people I met with had very positive things to say about their local editor and publisher while others didn't seem to know who those people at the paper were – just the reporter who typically calls them for a quote.