Complete Story

09/18/2015
Free police scanner apps are perfect tools for reporters
By Josh Park, ONA Program Support Specialist
When it comes to staying on top of crimes and accidents as they develop, police scanners are essential for the newsroom. But instead of spending upwards of $200, consider downloading one of the many scanner apps, all of which come with more capabilities than the standard police scanner.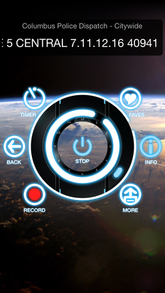 Although most apps are similar in their features – like chatrooms, timers to start and stop stations, using GPS to locate feeds and viewing the number of listeners – some scanner apps vary in what they can do. Check out these three, free apps below to see what might be the best fit for you:
Police Scanner + Free
This app for the iPhone allows you to browse police, fire, EMS, weather, railroad and radio stations by location or by most popular. You can search scanners in 79 Ohio counties, in other states and even other countries.
One helpful feature of the app allows users to record the station and email the soundbite as an mp3 file. Reporters can use this feature to send recordings to editors or use the dispatch calls as quotes in articles.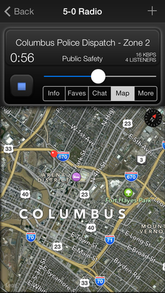 5-0 Radio Police Scanner
Another iPhone app, "5-0 Radio Police Scanner," broadcasts live police, fire, aircraft, railroad, marine, emergency and ham radio stations. The app also features a map that finds the location of the scanner feed.
For reporters who aren't familiar with police codes, the app includes a table of frequently used codes.
Scanner Radio
"Scanner Radio" for Android phones works similarly to the previous two apps when locating radio stations through GPS. The app features channels such as amateur radio, aviation, disaster event, marine, other, public safety, rail and special event.
With this app, users can set up notifications to their phone whenever there are a certain number of listeners on one station. This can be a great tool for breaking news, as more people will be tuned in to the station.