Circulation Links

2016 Ohio Circulation Conference
October 2 and 3, 2016
Thank you to everyone who attended this year's circulation conference. Access the archived files from the convention, including presentations, programs, photos and more.
OHIO NEWSPAPER ASSOCIATION CARRIER OF THE YEAR AWARD
See the winners of the 2016 Carrier of the Year Awards.
2016 Circulation Associate Members
Thank you for your support!



Automated
Check Processing
CIRCULATION TRAINING SESSIONS
Front-Line Management Training for District Managers

Transforming the District Manager's Role for Success
The district managers training on Thursday, April, 28, 2016 at OU - Pickerington Center was a great success! There were 36 participants who attended a day-long training session focusing on independent contractors with Mike Zinser; tips on succession planning from Nick Monico, Civitas Media; distribution networks with Dave Johnson, Akron Beacon Journal; managing key metrics with Greg Meyers, The Crescent News, Defiance; and driving single copy sales with Jeff Lawson, Gannett Publishing.
A special thank you to the lunch sponsors. We appreciate your support of the circulation managers!
| | | |
| --- | --- | --- |
| | | |
Downloadable training presentations (PDF format)
Mike Zinser, The Zinser Law Firm
Nick Monico, Civitas Media LLC
Greg Meyers, The Crescent News, Defiance
Jeff Lawson, Gannett Publishing Services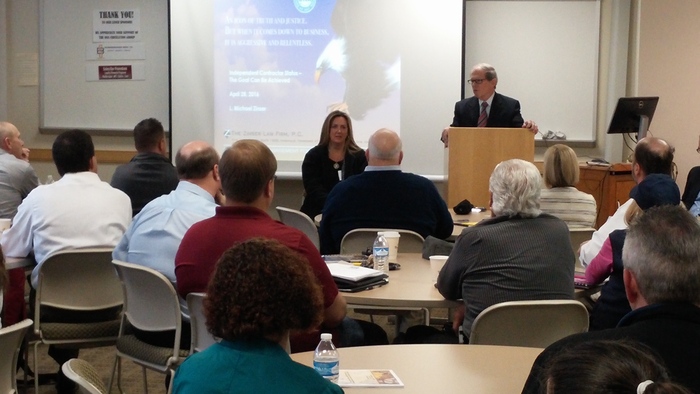 Mike Zinser with Lisa Yaratch, Record Courier, Kent, participating in Judge Mike's session testing her on Ohio laws and recent court rulings.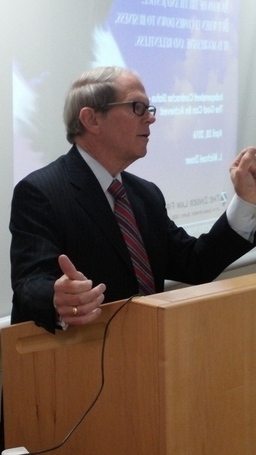 Mike Zinser discussing the many aspects of managing
independent contractors at the April 28 district managers
training.
The 2015 Ohio Newspaper Association Carrier of the Year Award winners were announced Sunday, September 27 at the 2015 Ohio Circulation Conference. The 2015 year's winners were:
Cody Mason, Youth winner, The Courier, Findlay
Malysa Bell, Adult winner, Toledo Blade
Rosemary (Tobi) Cowles, Senior winner, Toledo Blade
NEWS AND INFORMATION
About the Ohio Circulation Managers Association
The functions of the Ohio Circulation Managers Association are now under the umbrella of the Ohio Newspaper Association. In June 2013, the ONA's board of trustees voted unanimously on a resolution to accept the remaining assets of the Ohio Circulation Managers Association, which was disbanding.
The resolution stated the ONA's intent to continue key activities of the OCMA, particularly its successful annual fall conference. A new ONA committee, the ONA Circulation Managers Committee, includes members of the most recent OCMA board.
Contact
To learn more about the activities of the ONA Circulation Managers Committee, contact:
Kim Wilhelm, Committee Chair
Findlay Courier
419-819-7646
kimwilhelm@thecourier.com
To provide information for the Circulation pages or to submit circulation-related items for the Bulletin newsletter, contact:
Rob Jenney, ONA Circulation Managers Committee Website Chair
Findlay Courier
419-427-8499 or 419-722-6337
robjenney@thecourier.com