Complete Story

09/14/2018
'We're Your Neighbors:' ONMA offers special Newspaper Week ads you can customize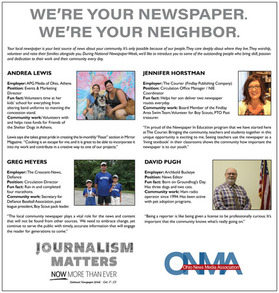 This year National Newspaper Week (NNW) will be celebrated from October 7 to 13. The theme for NNW is "Journalism matters now more than ever," a response to recent attacks on the media industry.
An important aspect of why newspapers matter is because newspapers are an integral part of their communities. The people who work in our industry care deeply about where they live. They worship, volunteer and raise their families alongside their readers.
To highlight this community aspect of newspapers, the OMNA has created a special ad for our member papers to run during National Newspaper Week. The ad showcases the people who make our papers what they are. This is not only an excellent way to humanize your paper with your readership, it's also a great way to highlight the employees who give so much to make your paper a success.
A half-page version of the ad featuring people from newspapers across the state can be downloaded here and run as is. You can localize this ad as much as you want by downloading a blank version of the ad ready for you to insert photos and information about your staff. You can delete the ONMA logo and insert your paper's own logo or run both logos. You also can mix and match, combining a member of your staff with any of the profiles in the ad. (If you have technical issues, contact Jason Sanford, jsanford@ohionews.org.)
The ONMA encourages our member newspapers to both run these ads during National Newspaper Week and write editorials and columns about the importance of newspapers to your community. For other free resources your paper can use during NNA, go to www.nationalnewspaperweek.com.