Complete Story

01/31/2019
ONMA honored for work supporting bill on historical records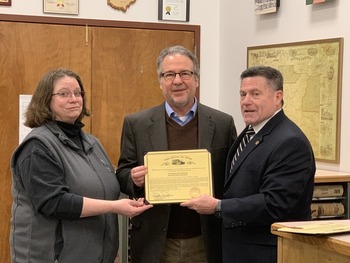 Ohio State Rep. Rick Perales, R-Beavercreek, presented the Ohio News Media Association with a proclamation from the Ohio House of Representatives thanking association members and staff for their support of House Bill 139.
The bill, which was introduced by Perales, was backed by archivists, historians and genealogists across Ohio who had been working for several years to open public records that had been kept secret in perpetuity.
Under the bill, the public now can view county home registers, children's home registers, dockets, veterans' relief records, certain adoption records, lunacy records, and many other categories of permanently retained records after 75 years. Exceptions include records protected by attorney-client privilege and critical infrastructure records.
"I'd urge our newsrooms to take a look at these records as I recently had a chance to do," ONMA Executive Director Dennis Hetzel said. "They're fascinating treasure troves of local history that will suggest lots of possible features."
Gov. John Kasich signed the bill into law after it passed both the House and Senate unanimously on the last day of the legislative session. Perales specifically praised the ONMA for efforts in late December to get the bill onto the Senate floor for a vote when it appeared the bill would die in the year-end logjam of pending legislation. ONMA's efforts on the bill also resulted in the time frame being lowered from 100 years to 75 years.
"Your professionalism and dedication were evident during this bill's journey through the Legislature," the proclamation noted.
Photo: Robin Heise, manager of the Greene County Archives in Xenia, joins Rep. Rick Perales, right, in presenting ONMA Executive Director Dennis Hetzel with a proclamation thanking the association for support of House Bill 139. Heise's agency held an open house Jan. 25 to display some of the historical records that the bill has opened for public view.