Complete Story

09/27/2019
Walt Dozier celebrates 20 years with AdOhio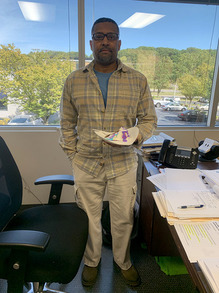 Today is Walt Dozier's 20th anniversary with AdOhio, the advertising affiliate of the Ohio News Media Association.
Dozier joined AdOhio on September 27, 1999, after working as the general manager of Michigan Newspapers, the advertising subsidiary of the Michigan Press Association. He also had previous experience as a sales representative with Studio One in Battle Creek, Michigan.
Today Dozier is the advertising director of AdOhio, where works with direct clients and agencies for rates, newspaper options and planning media buys.
"I wish Walt continued success in his role here on behalf of our members and the association, " said Monica Nieporte, president and executive director of ONMA. "Walt has many years of experience in the industry and has many valuable relationships with state agencies and advertising agencies that will continue to benefit us in the future."
Looking back on his twenty years at AdOhio, Dozier said "The best part of my tenure here at AdOhio has been working with my wonderful staff and our members. I look forward to many more years of being here."