Complete Story

11/22/2019
Thank you to all the hard-working people in our state's news media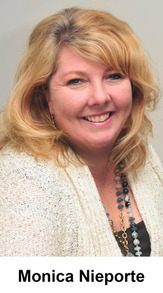 By Monica Nieporte, President and Executive Director
At Thanksgiving, I wanted to take a moment to tell all of you hard working news media people – Thank You.
There has probably never been a more tumultuous time to be an advertising sales rep, a reporter or a pressman. The newspaper world has greatly changed since I first entered the business but there is one thing that has remained the same – it takes people from every department, every shift to put out the daily product. Whether each day is in print or online it doesn't matter. Deadlines are deadlines. The group of people who determine what stories to pursue for readers are as essential as the people who deliver the product to consumers. The ad director is as important as the production manager or editor.
I think back on my days as a reporter when complaints came in over the land line telephone. Those calls were bad enough but they were usually impersonal and matter-of-fact. Today's journalists get smeared on social media, harassed on their personal cell phones if someone is unlucky enough to have their number end up in the wrong hands and trashed on the newspaper's website in the comments field. The whole climate is so vicious. Yet, here you all still are – pursuing a greater truth, for the greater good and developing skin as hard and thick as oak. You have to. This never has been a business for the overly-sensitive or easily-dissuaded.
Advertising reps, God love you. You have to hear three times as many "no's" to get the one "yes" as you used to. The world was once your oyster and now… well, there's a faint stench of stagnant water out there as you try to keep one step ahead of competition that is coming from all industries, at all times. Production managers, if you still have your own presses and crew, you know you already have much to be thankful for this year.
Everyone looks tired from the constant battle. You may wonder – why on Earth do young people still want to get into this field? And then you watch as The Washington Post, New York Times, Politico and others flex the muscles of the Fourth Estate day after day, night after night with the help of their friends in broadcast cable. Someone has to do this. Someone has to hold public officials accountable, the world cannot be a free-for-all. Someone has to chronicle the rise and fall of the high school football team in the playoffs – capture the disappointment of a loss or the thrill of an unexpected win. It all still matters. You all still matter.
Even if your readers or clients don't say it often enough, you are appreciated and respected for the job that you do. Thank you for continuing to hold your heads high as you push on each day with dignity and determination.