Complete Story

08/06/2021
News-Herald continues under new ownership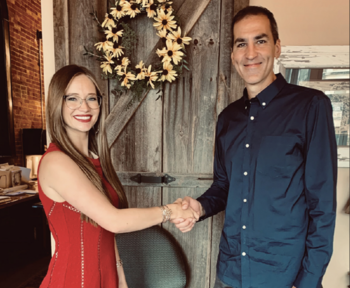 Originally published in the News-Herald
Image at right: Bonnie Rutledge and David Schloss shake hands to finalize the sale.
Former owners of the Harrison News-Herald, David and Emily Schloss, have moved on from their two-decade stint in local news. The duo purchased the Harrison News-Herald in 1999, their first newspaper business, under Schloss Media and began accumulating other newspapers and publications, which once totaled six entities in all. Now, having just the News-Herald left in their care, the Schloss family has passed the business into the hands of a former reporting intern to round out their more than twenty years of print.
"It is bittersweet, of course," noted Schloss. "This newspaper has been at the center of our enterprise and our life for over 20 years, and we were very blessed during that time. However, I am very encouraged and excited for the next chapter in the history of the News-Herald. Bonnie is very talented, hard-working and has the energy to carry the News-Herald forward for many years to come in serving the needs of Harrison County."
Bonnie Rutledge (Higgins), born and raised in Harrison County, took a summer internship at the newspaper three years ago as she worked through college. Schloss graciously explained other facets of the business over time, and, three years later, has helped her step into the new role of ownership. She looks forward to refreshing the content, look and reach of the newspaper, as well as supporting the community in every way possible.
"Local News is not going away," Rutledge stated. "Truthful reporting is imperative to our community, both socially and politically. Our goal is to display the facts in effective, accessible ways for our readers to enjoy. As citizens, it is our responsibility to stay informed. As the local newspaper, it is our responsibility to deliver quality information that is factually and grammatically accurate, aesthetically pleasing, and functionally understandable. And as the community, it is our responsibility to rally around each other and stay connected--those three responsibilities are the heart of the newspaper."
Harrison County's newspaper dates as far back as 1815 when the Cadiz Republican released its first volume. The Scio Herald rolled off the presses in 1879, and the Freeport Press-Herald followed suit a couple decades later. All three papers were combined into one area newspaper in 1968, when co-publishers Maynard A. Buck and Milton Ronshiem pooled their time and resources to centralize county news in the merged Harrison News-Herald. Today, we are looking forward to a modern, comprehensive improvement of the age-old pages read anew each week.