Complete Story

02/27/2023
Tributes to the Life and Times of John and Marilyn Lampson
Editor's Note: Below are tributes to John and Marilyn Lampson that recently ran in Gazette Newspapers. Thank you to Bill Creed, Gazette's current president and publisher, for giving us permission to share these articles and photos with ONMA members.
A life well lived: John E. Lampson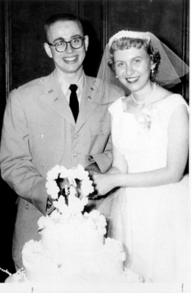 May 22, 1936 – January 14, 2023
MENTOR, OH – John Lampson, 86, a native of Jefferson and Ashtabula County, died Saturday, Jan. 14, 2023, in his apartment in Mentor, with his wife Marilyn by his side, following a brief illness.
Lampson was born May 22, 1936, to E.W. "Ab" and Doris (Durey) Lampson in Jefferson, Ohio. He was the sixth generation of the Lampson family to live in Ashtabula County and he graduated from Jefferson High School in 1954.
He loved sports and played on the varsity football and basketball teams. Later in life, he coached his sons' baseball teams. He was active in the Boy Scouts and worked at the newspaper even before he graduated high school. He would also help organize the 1954 class reunions.
He and his wife had moved to Punta Gorda, Fla., but always came back every summer. He was a member of the Ashtabula Elks and always considered Ashtabula County to be his hometown.
After high school, he went on to the University of Missouri, which he graduated in 1958 with a bachelor's in newspapers management. While at Missouri, he met his wife, Marilyn (Lippy) and they were married on May 23, 1959. He always discussed how the most beautiful woman came to his college paper's office party his sophomore year and he bought her a beer for a quarter. They were never apart after that. At college, he played intramural sports and worked for the college paper. He was in the Delta Tau Delta fraternity at Missouri and Sigma Delta Chi, the professional journalism fraternity.
Upon graduation, he reported to Fort Harrison in Indianapolis, IN, for training in the Adjutant General Corp. In May of 1959, upon completing training, he and Marilyn got married at the Chapel on Fort Harrison base.
After their honeymoon, Lampson served as commissioned 2nd Lt. in the U.S. Army Adjutant General Corps
Stationed at Ft. Myers in Arlington, VA, he was first assigned to the Billeting Department for the housing needs of the 23 general officers living on the post, plus single officers living on post or visiting officers to Washington, D.C.
Eventually he was transferred to public information duties in the Public Information Office (PIO) at the Military District of Washington (MDW). "The headquarters of this department were a couple of wooden buildings behind the Pentagon. In 1960, I could drive through the North and South Ft. Myers post, through Arlington National Cemetery to my workstation," Lampson had recalled in the past.
"In August 1960, during the presidential contest between Nixon and Kennedy, I was named the lead officer to write the military portion of the Presidential Inauguration Parade TV script. The military selected 70 units for the parade and the winning candidate could add up to 30 units. With this assignment came invitations to all inauguration activities. Marilyn and I stood (freezing) not more than 30 feet from John F. Kennedy as he took the oath of office. We also had parade seats next to the President's viewing stand," Lampson recalled.
"After discharge I had two years of reserve officer duty. I was reassigned to MDW for that duty. The first year I spent a half day escorting Prince Juan Carlos and Princess Sophia (later becoming King and Queen of Spain) on their honeymoon around the Washington Mall and Arlington National Commentary and then to a meeting with the President, JFK," Lampson wrote of his most interesting time in the Army.
"The second year I had the same duty escorting two Japanese Senators around those same places. However, it became a little more exciting when a large contingent of people ran off the Lincoln Monument calling for the overthrow of the U.S. government. (They were filming Bye, Bye Birdie.) You can imagine trying to explain to visiting Japanese dignitaries that this was just a movie," he added.
Lampson was eventually promoted to 1st Lt. prior to his retiring from the Army in 1963.
Lampson became the fourth generation to work at Gazette Newspapers in 1963 after discharge from the Army. Starting as a reporter and then editor, Lampson was the first Ohio reporter to be allowed to take photographs in a Common Pleas Court during a civil trial, Judge Lambros with Vincent Fox vs. Village of Jefferson over the use of the Green for a building site. "At that time, The Gazette came out twice a week and I was the only reporter. So I had to do just about everything," he recalled in 2003.
"There was a lot of late nights, and everything took longer. I have seen technology change the production process dramatically. It is like going from horse and buggy to a jet airplane," he recalled in 2003.
He was able to see the newly installed computer to plate in 2020. What used to take 2,000 square feet of equipment was now in a 10x15 room.
In recalling his early days as the editor, he remembers having to break-down the door to attend a council meeting. According to Lampson, the council was trying to hide the sale of the water treatment plant and did not want the public to know. "I had a job to do, and I was going to do it," he said.
"Being in this job allows you to meet many great people," he said. "Since I covered all the Jefferson Board of Education meeting, I became known as the sixth member," he joked.
One of his most interesting photos he ever took was that of a two-headed cow born in Ashtabula County.
Lampson served as Publisher of Gazette Newspapers from 1985 to 2012, later becoming the Publisher Emeritus, which he served until his death.
In 1976, Lampson purchased Church Printing in Ashtabula on Lake Avenue and expanded it from 1,200 square feet into a new, almost 9,000-square-foot printing facility called Great Lakes Printing. More recent, Great Lakes Printing has been combined with the Gazette Newspapers facility in Jefferson and the former building is rented to Lighthouse Harvest Foundation, which provides clothes and food to those in need.
Ashtabula County played an important role in his life and he served on many boards. He served as Director for Northeast Ohio National Bank from 1976-1989, until it was bought by Ameritrust Bank.
He was Trustee of Henderson Memorial Public Library from mid 1960s until 1973 and was the chairman of the building committee that completed the new library. Upon retiring from the Library Board, he co-found the Henderson Memorial Public Library Foundation and was on the Board until he retired in 2019. During that time, the Foundation was a major contributor of funds to purchase the Trinity Episcopal Church for future library and community use.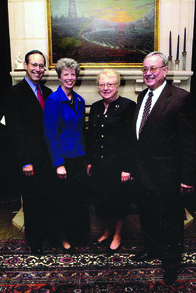 Lampson's passion for Ashtabula County was to preserve and remember its rich history, and his family hopes to continue that legacy.
"John Lampson was a visionary. Like his father and his grandfather, John possessed a deep love for Jefferson and served on numerous boards and groups to make manifest his vision for a more vibrant community. As president of the Henderson Memorial Library Foundation, he was instrumental in not only choosing the site, but for building our beautiful facility, and helping to maintain it through his skillful management of funds bequeathed to the library. His impact will ripple through his beloved Jefferson for generations to come," said Dr. John Patterson, president of the Henderson Memorial Public Library Foundation.
Lampson served as a Trustee from 1978 to 2002 for the Ashtabula County Medical Center and was on the Joint Policy Committee, Clinic Governance Committee, Executive Committee and Finance Committee. During his time, he helped purchase the Ashtabula Clinic from a group of doctors. From 1995 to 2000, he served as chairman of the Board and secured a $15 million loan from the Cleveland Clinic Foundation for the expansion of healthcare in Ashtabula County. While on the Board, he also experienced one of the worst nurses strikes in America. The hospital's 170 registered nurses struck July 21, 1980. About 90-100 remained on strike in what the Ohio Nurses Association has said was the longest such strike in U.S. history. The strike went on for more than a year – 570 days.
With the Cleveland Clinic affiliation, he served on the Health Trustee Institute of Cleveland and the Cleveland Clinic Health Trustee Network led by Dr. Floyd Loop. The network strategy was to improve regional access resulted in the construction of family health ambulatory centers across Northeast Ohio, and the acquisition of eight community hospitals in the 1990s. He also helped to facilitate the affiliated of Glenbeigh Health System with ACMC, and served on that Board.
Lampson served as a trustee of Goodwill industries from 1975 to 1991, and president from 1982-83 and again in 1988-89. He always recalls the board having to fire the Executive Director when he failed to make timely payroll tax payments. The board had to go out to the local community to raise $9,000 in one day from six local financial institutions to meet the tax obligation. The board was able to hold off Goodwill International from taking its Charter, and the Board ran the company until it was able to hire George Shahin and he was able to turn the company around.
Lampson also served as Secretary-Treasurer of the Jefferson Economic Development Corp., and former chairman or president of the Jefferson Rotary, Jefferson Chamber of Commerce, and the Ashtabula Advertising Club.
Lampson always recalled the time he was driving through Indiana around 1982-83 looking for a place to stop for the night. When he came to this small town, he could not find a room. He asked the front counter clerk what was going on, and he was told about the Parke County Covered Bridge Festival. He thought it was such a great idea that, upon returning to Jefferson, he called Betty Morrison to tell her "we should do this here."
On the state level, in 1991, he was appointed by Sen. Stanley Aronoff to head up the Ohio Newspaper Recycling Task Force. The General Assembly and the Governor each appointed two members to monitor and reduce the amount of newsprint entering landfills by encouraging publishers in increase the usage of recycled newsprint purchased annually. Eventually, the committee and Gov. George Voinovich signed a contract to reach a goal of 40 percent by 2000. They were able to meet this goal well before the 1999 deadline.
In 1994, Lampson was selected by Gov. Voinovich to be Grand Marshal for Recycle Ohio Day at the State Fair. He was accompanied by his wife, son Michael, and daughter-in-law Brenda as he walked briskly from location to location on the fairgrounds.
"This was no small feat in the August heat wearing a jacket, tie and leather dress shoes. He first spoke, along with Gov. Voinovich, at the fair's opening that day. He witnessed the Flying Elvis's parachute onto the grounds and later had his photo taken with them. In the afternoon, he thoroughly enjoyed being seated in an open convertible leading the Fair's daily parade," Michael Lampson recalled.
Lampson served on the Board of Trustees for the Ohio Newspaper Association from 1988-2003 and as president of the Ohio Newspapers Association 1998 – 2000. He also served on the Ohio Newspaper Foundation.
He received the ONA President Award in 1993 and the Governor's Award in 2003 from Gov. Robert Taft.
Also in 2003, Lampson received the Richard Morrison Director's Award from Growth Partnership for his commitment to Ashtabula County.
"Those commitments to community are what makes Lampson such a value to Ashtabula County," Executive Director Joe Mayernick stated in the 2003 award brochure. "His commitment to this county never ends. His whole life is dedicated to this county," he added.
From taking Ashtabula County Medical Center from a rural hospital to a relationship with a world-class organization, from taking an old, outdated library to the new building it is today, from saving the Trinity Episcopal Church from destruction to become the Jefferson Historical Society, from saving Goodwill Industries from being taken over by the corporate headquarters and to all the committees and organizations he has served on in his life-time, you can say he has "A life well lived."
Marilyn Lampson
Born February 14, 1937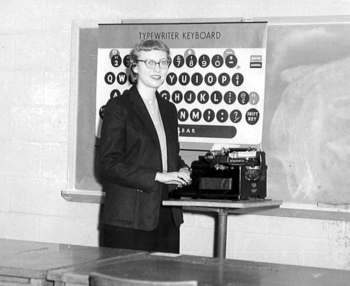 Marilyn (Lippy) Lampson was born Feb. 14, 1937, in St. Louis, MO, to Richard and Agnes (Kinsey) Lippy.
She attended Southwest High School in St. Louis and the University of Missouri for College, where she majored in Business Education.
While in college, she was an officer of the Alpha Chi Omega sorority and a member of Pi Lambda Theta, a national educational honorary.
Lampson enjoyed dance and performed many times over the years, both in elementary, then in high school and then continued enjoying dance all her life.
During the summers and after college, she worked as a secretary for Brown Shoe Co. in St. Louis until she got married.
She married 2nd Lt. John Lampson from Jefferson, OH, on May 23, 1959, in the Chapel at Ft. Harrison in Indianapolis, Indiana, where he was completing his Army training. The couple enjoyed a 15-day leave and traveled to Colorado Springs, CO, for their honeymoon.
After the wedding, the couple moved to Fort Myers in Arlington, Va., where Lt. Lampson was to be stationed.
She worked at the National Academy of Sciences in Washington, DC, from 1958 to 1961.
In 1961, the couple moved back to Lt. Lampson's hometown of Jefferson, OH, where he joined the family business, Jefferson Gazette.
Mrs. Lampson worked two years at Pymatuning Area Schools in Andover, OH, before becoming a stay-at-home mom, raising her two sons, Michael (born 1963) and Jeffrey (born 1965).
She also took graduate education courses at Kent State University and Lake Erie College. In 1970, she began teaching again part-time at various school district in Ashtabula County, including Jefferson and Pymatuning, and taught adult education at the Ashtabula County Vo-Ed and the Ashtabula branch of Kent State University.
She taught mostly business skills such as typing and short-hand, but also worked with learning-disabled students.
In 1986, she joined her husband at Gazette Newspapers as the corporate secretary and as front office manager. She worked there until she retired in 1995.
She was a past secretary of the Jefferson Chamber of Commerce and co-founded the Jefferson Playschool.
She also was involved in many community organizations, such as Jefferson PTA, bridge clubs and dance clubs, but her favorite was always the Falcon Follies. You could always find her dancing away and leading the kick line with Belva Boone.
Gazette Newspapers: A Family Affair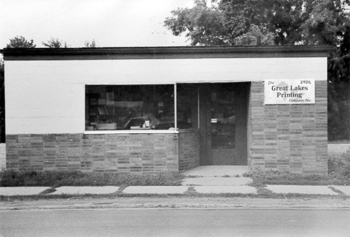 ASHTABULA AND LAKE COUNTIES – Gazette Newspapers is truly a family-owned and operated business and has been since 1883, when E.L. Lampson purchased the company.
Since then, it has been passed from son to son for five generations. Few companies in Ohio show such dedication and pride in its owners.
Publisher of four weekly and one monthly newspaper in northeastern Ohio, Gazette Newspapers traces its roots to a greenhouse on Chapel Road in North Madison in the year 1871 when Ferdinand (Berd) Lee started an amateur monthly journal called the Star. The Star was published by Lee for one year.
In 1872, Lee's father, Daniel Lee, joined his son in the newspaper business and formed a weekly newspaper called The Independent Press. The first issue was dated Jan. 3, 1872.
The Independent Press published by Daniel Lee & Son struggled. The Lees redefined the focus of the newspaper to the dairy industry in hopes of increasing circulation and revenue. The newspaper's name was changed accordingly to the Dairy Gazette. Readership grew, but so did expenses. The paper lasted only six months.
Daniel Lee & Son returned the paper to covering the local community of Madison under a new name, The Madison Gazette, in 1873.
The paper continued publication in Madison until 1876, when the Lees left Madison for Jefferson and the Jefferson Gazette was born. The first edition of the Gazette was published in Jefferson in November 1876 by the Lees.
Ferdinand Lee operated the paper for four years, before taking on a partner named Norton in 1881. The paper was then sold, and sold again in 1882 to Ed Gerkin.
In the spring of 1883, a local lawyer, E.L. Lampson, purchased the paper from then-owner, Ed Gerkin. The Lampson family has published The Gazette in Jefferson ever since.
At that time, the Gazette office was located on the second floor of a building on the west side of North Chestnut Street in Jefferson.
Later it was moved to a three-story brick building which Lampson had purchased on the northeast corner of Chestnut and Wall Streets, then known as Court Alley.
The first floor housed the post office. The editorial offices were on the second floor, a job printing operation was on the third floor and the newspaper press was in the basement.
E.L. Lampson sold a half interest to his brother, R.D, who worked at the paper until 1891. R.D. sold his interest back to his brother and went to Warren where he acquired the Weekly Tribune. R.D. changed the paper to a morning daily in 1891, but sold the paper to take a political job in Columbus.
E.L. Lampson ran the Gazette until Dec. 1895, when he was appointed Reading Clerk of the U.S. House of Representatives in Washington D.C. He served the role until 1911.
E.C. (Chet) Lampson, son of the owner, ran the business in his absence and purchased the company in 1902. Three years later, he was joined by his uncle, R.D. Lampson. The two operated as partners until 1940.
The "Big Fire" in 1906 completely destroyed the building and equipment, but in the short span of 90 days, a new two-story brick building was erected and new printing equipment installed.
While the fire was still burning, R.D. Lampson took the morning train to Cleveland, where he arranged for the purchase of a new press and other equipment.
In the interim, The Gazette continued publication through an arrangement with The Ashtabula Sentinel, which had been published in Jefferson since 1852. Owned by William Cooper Howells, The Sentinel had been started in 1832 in Ashtabula, then moved to Jefferson.
The Howells family was among the country's outstanding newspaper people of the period from 1850 to 1900.
A son of The Sentinel publisher was William Dean Howells, known as the Dean of American Literature and one-time editor of Atlantic Monthly.
In 1909, The Sentinel was taken over by the Jefferson Gazette and the papers were combined into one publication. The Sentinel was revived in 1968.
In 1965, the Jefferson Gazette moved from its location of more than a half century on North Chestnut Street to 46 West Jefferson St., where a new building had been erected and the first offset newspaper operation in Ashtabula County had been installed.
Today, the Gazette Newspapers family includes weeklies throughout Ashtabula County and eastern Lake County.
Lampson's legacy will be remembered at the Jefferson Historical Society
BY BARBARA J. HAMILTON
Gazette Newspaper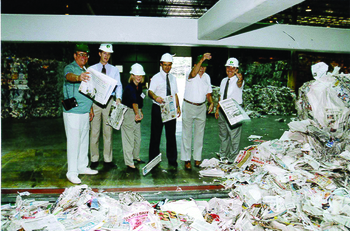 JEFFERSON - John Lampson came from a long line of men who made history with their achievements. Many of the pictures and records, as well as news stories, are kept at the Jefferson Historical Society. When he retired from organizations that disbanded, and in which he held office, he presented the society with many of the minutes and news clippings of the life of those organizations.
A wealth of history is contained within those papers. He said he was confident he could trust the society with the keeping of the important notes.
Lampson's love of family and history caused him to get involved financially as soon as the society formed in 2005. His generous "start-up" gift, established him and his wife as "lifetime members." It showed his trust in the group and his desire to see it succeed. Every year, according to President Norma Waters, John and Marilyn gave a monetary gift showing their support. "He always asked how things were going and was interested in what we had accomplished and our future plans," said Waters.
Lampson donated part of the minutes and papers from his time as secretary from the disbanded Jefferson Economic Development Corporation, the Henderson Memorial Foundation and the Jefferson Memorial Foundation.
In 2007, the society received a grant from the Jefferson Memorial Foundation that was applied to their mortgage. That same year, the Jefferson Economic Development Corporation made the Jefferson Historical Society one of three organizations that were beneficiaries of the assets when the corporation disbanded.
Lampson had a large hardboard check made up for each group and came to present it to each board. In all the memorabilia he entrusted the society with was a picture of this event. The society was able to replace the original slate roof and repair the church steeple.
Lampson loved the old building that was once the Trinity Episcopal Church. It was the church at which he and his parents were members. Old church records include the letter of transfer of Mrs. Elbert Lampson's from St. Peter's Church of Ashtabula to Trinity Episcopal on Feb. 1, 1945. Records also show that E.W. Lampson was a member of the vestry in 1962-63. His family attended at the same time as the late Richard Waters and his family. Waters and Lampson held many memories of the church and both were happy when the building was saved by the Jefferson Historical Society in 2005. Lampson became a contributor to the society; Waters became a member and his wife became the president. In great part to donations like Lampson's, the society was able to pay off their mortgage in eight years instead of ten.
The columns and small books written by the Lampson men were also donated. They include, "The Changing Times," "Random Thoughts," "History of Jefferson," "Know Your Neighbor" and other writings of the Lampson family.
The Jefferson Historical Society and John Lampson have been friends for many years and now at his passing, they have lost a great man with a big heart, a love for his family, his community and history. He will be greatly missed but through his monetary and historical donations, his memory will not be forgotten.
If you wish to make a contribution to the Jefferson Historical Society, it may be sent to the Jefferson Historical Society, P.O. Box 574, Jefferson, OH 44047.
The Henderson Memorial Public Library Foundation, a lasting testament to John Lampson's commitment to Jefferson
BY GABRIEL McVEY
Gazette Newspapers
J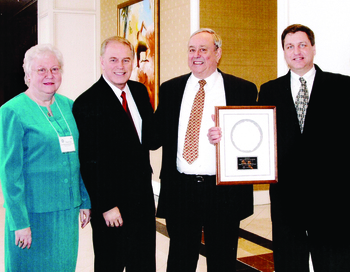 EFFERSON – One way to measure a man's life is in how his actions benefitted the community, and by any measure, John Lampson's decision to establish the Henderson Memorial Public Library Foundation in 1973 created a lasting legacy for him in Jefferson.
The mission of the HMPL Foundation is to assist in the support, maintenance, promotion and development of the public educational and charitable works and activities as presented to the community by the Henderson Memorial Public Library, according to the group's official history.
In February, 1973, the old library, which was on the second floor of the old fire station at the southeast corner of Jefferson and Chestnut streets, was faced with a need to move house when the building was condemned.
At the time, Lampson was serving on the library's building committee and Ralph Haskins as library board president. The two of them worked with the Northeast Ohio National Bank trust department.
The estate of Lloyd Henderson and a donation by Ida Goldburg of a parcel of land at the corner of Satin and Chestnut streets allowed for the construction of the Henderson Memorial Public Library for a little more than $300,000, or just under $2.1 million in contemporary dollars.
Lampson and Haskins initially funded the HMPL Foundation with $100 (just under $700 today). It was intended that any funds left over from the initial bequest would be placed with the foundation.
Haskins continued as president of the library association and Lampson resigned to serve as a member of the foundation board.
"John Lampson was a tireless and diligent friend of the Henderson Memorial Public Library, serving continuously on the Henderson Memorial Public Library Foundation from its inception in 1973 to his subsequent resignation in April, 2019," HMPL Director Beverly Follin said.
The foundation has provided funds for archival materials, children's and adult programming, computers, microfilmed articles from the Gazette, HVAC projects and books and movies, according to Follin.
"(Lampson's) fortitude and foresight as the financial overseer of the foundation has ensured successful growth and security in the library's abilities to not only meet the wants and needs of the people of Jefferson, but to look ahead to the demands of the future," Follin said.
In June, 2021, the library held a tree dedication and plaque unveiling ceremony for Lampson, foundation founder and past president, and Robert McNair, foundation supervisor and legal counsel, recognizing their many years of dedication to the Jefferson community and the HMPL.
John Patterson, the current president of the HMPL Foundation board, said Lampson's legacy will be his service and his devotion to the people of Jefferson.
"Though John Lampson was well-known for his devotion to the Henderson Memorial Library Foundation, his impact as a leading citizen of Jefferson will be felt for decades to come through his involvement in many other civic initiatives," he said. "Humble, insightful and visionary are but three descriptors of this son of Jefferson. His legacy, like those of his ancestors, is secure in the hearts and minds of all who were blessed to know him."
Gifts to the HMPL Foundation can be deferred by will, trust or endowment and may be in cash or property, real or personal or directly support any of the ongoing projects. The HMPL Foundation has been declared a 501(C)(3) charitable foundation. Gifts to the foundation are tax exempt as permitted by law.
Lighthouse Harvest Foundation aids those in need
BY BOB ETTINGER
Gazette Newspapers
ASHTABULA – Shirley and Elbert Hanna had a calling. They answered with the Lighthouse Harvest Foundation Food Pantry and Clothing Bank.
"Lighthouse is a Christian ministry, and we just felt that it was something that the Lord wanted us to do," Shirley Hanna said. "There was a need and His word says, 'Feed my people. Clothe my people.' And, all through the Bible, you'll find where he tells us to feed his people."
The Lighthouse Harvest Foundation, 2926 Lake Ave., Ashtabula, has a soup kitchen, clothing bank and a small store.
Once housed in the old armory on State Road in Ashtabula Township, Lighthouse moved to the former Great Lakes Printing building on Lake Avenue, owned by Jeff Lampson.
"They have given us donations, but Jeff has really been generous," Shirley said. "When we looked at places, they wanted as much as $10,000 a month. Jeff gave us a really fair price and when we renegotiated, he knocked it almost in half. Without their help, we could not afford to do this."
A large number of people get a meal at the soup kitchen each day.
"We feed people a hot meal every day and anywhere from 50 to 100 people a day will come and get a meal," Shirley said. "They can eat it here or they can take it with them."
The clothing bank allows people in need to take clothes for free.
"People can come in, get clothes, shoes, socks, underwear, anything like that," Shirley said.
For those looking to clean up and throw on a fresh set of clothes, there's a shower.
If a person calls ahead, the foundation will have a box of food ready to be picked up from the food pantry.
Personal hygiene products and other expensive items that are essential are also available.
"They may have some food stamps to get by, but they can't buy that other stuff that they need," Shirley Hanna said.
Other items can be found, as well.
"We have a linen room where we get towels, washcloths, sheets, blankets, pillows, pots and pans and dishes, anything that somebody's going to need if they walk in here and they've had a fire or they've been displaced for some reason or just anybody who has any needs starting out," Shirley said.
For financial donations, please make checks payable to Lighthouse Harvest Foundation and mail them to P.O. Box 626, Ashtabula, Ohio 44005. Contact directors Elbert and Shirley Hanna at 440-998-7813.
Bella Care gives a personal touch
BY Timothy Lord
Gazette Newspapers
AUSTINBURG TOWNSHIP - Many people have a misunderstanding or lack of knowledge regarding hospice care. Most people believe that hospice care is provided when death becomes inevitable, but Bella Care Hospice in Austinburg focuses on providing the best possible quality of life until a person passes away.
According to Director Michelle Kalifon, Bella Care takes a different approach with their patients. Every patient is cared for with a personal touch.
Bella Care Hospice is a compassionate team of doctors, nurses, social workers, bereavement and spiritual coordinators, volunteers and therapists who meet medical, physical and emotional needs of patients, communities and families.
Bella Care provides support for patients and their families that goes well beyond traditional end-of-life care. Bella Care Hospice provides care at a patient's home or nursing facility, and they work with the family to create a plan of care that is individualized and offers ongoing pain management while helping coordinate other therapies as needed.
Bella Care features what they call the Stepping Stones Program, and this continuing support is a quality part of their care. Kalifon explained that there are 10 steps that can be taken during care. Some patients won't experience all 10 steps, but they provide comfort in a nurturing environment.
The steps are: shoulder and hand massage, spiritual support, sharing life stories, comfort care, listening to music, reading poetry, life review, therapeutic touch, family connection and sitting quietly. Each of these systems is designed to provide ongoing support and engagement with patients and help them feel at peace.
Bella Care also offers a program that is specifically focused on dementia care as well. With Certified Dementia Practitioners on staff and ongoing training for employees to help them better care for dementia patients, Bella Care focuses on empathy training to ensure that care providers can best serve their patients. Kalifon also pointed out that they make use of community resources designed to help dementia patients, and the Bella Care team works to help families cope with the challenges of dementia.
For those wishing to donate to Bella Care Hospice, visit the Bella Care website at https://www.bellacarehospice.net/default.aspx and click "Donate Now" in the lower right-hand corner. To send a donation by mail, a donation form can be printed from the "Donate Now" page, and a check can be mailed to 110 Polaris Parkway, Suite 302, Westerville, OH 43082. Bella Care Hospice is part of the Celebrate Life Foundation.